New RV-C Course Now Available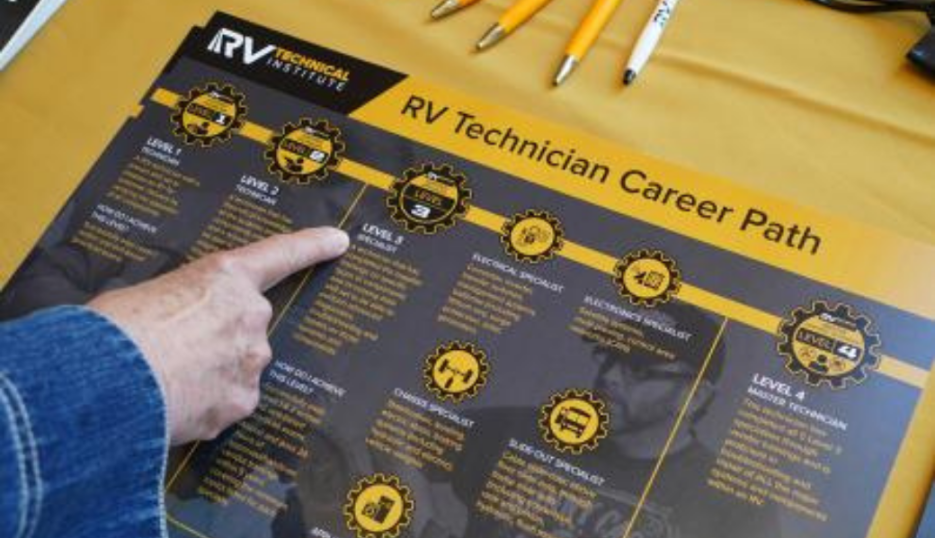 The RV Technical Institute has launched a new course, the Introduction to RV-C, as part of its gold standard technician training curriculum. This Level 3 class provides interested technicians with the knowledge and skills necessary to understand and utilize RV-CAN (RV-C), a powerful diagnostic tool used in the RV industry.
Technicians who are interested in enrolling can learn more about the new course in the Q&A below:
What can students expect to learn in the Introduction to RV-C?
Upon enrolling in the course, students will learn— among other objectives — how to define the purpose of RV-C as a diagnostic tool in the RV industry; operate the RV-C network using graphical user interfaces and touchscreen systems; troubleshoot common wiring issues and resolve communication problems in RV-C networks; and explain the importance of network troubleshooting, including network voltages, terminations, device status, cables, and connectors.
Are there any prerequisites?
Yes. Students must have a working knowledge of RV systems and components prior to enrolling in the course.
How much does the course cost?
The class costs $100.
Can this course help me fulfill Level 3?
Yes. The course is considered part of Level 3's electrical specialty.
What is the class format?
The online course offers four different modules that cover an introduction to RV-C, the physical layer of RV-C, operating the RV-C network, and utilizing RV-C software. The course also addresses how to troubleshoot common problems.
Through a combination of written content, video demonstrations, and practical exercises, students will gain a basic understanding of RV-C and its applications in diagnosing and troubleshooting issues in recreational vehicles.
Students will complete a 50-question exam upon finishing the modules.
How long does it take to complete?
The class is completed online and takes approximately six hours from start to finish. However, it can be done at the student's own pace.
How can I sign up?
Interested RV Technical Institute students can enroll in the RV-C course here.