Final All-Women's Class For the Year Wraps In Camp Hill, PA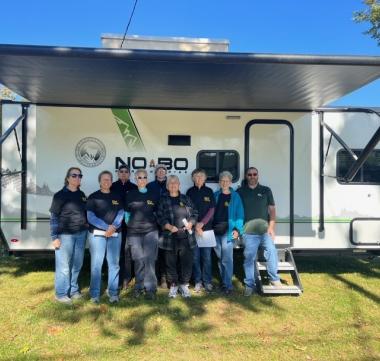 Last week the RV Women's Alliance, RV Technical Institute, and Pennsylvania RV and Campground Association partnered to complete the sixth and final all-women's RV technician training class of the year at Camp Hill, PA. A total of 10 women participated in the course, which took place October 23-27th.
This course trains students on the RV Technical Institute's gold standard curriculum and teaches competencies on seven RV systems, including propane, plumbing, electrical, appliances, generators, body, and chassis. The class also provides the working knowledge necessary to perform pre-delivery inspections.
While the latest data shows that women make up only about 2% of all RV technicians, these courses are starting to make an impact with women making up 23% of the student who have received in-person training with the RV Technical Institute this year.
"We enjoyed working with the RV Women's Alliance and the Pennsylvania RV and Campgrounds Association on our sixth all-women's class of 2023," says Tracy Anglemeyer, the RV Technical Institute's Director of Recruitment. "We've also enjoyed working with the women throughout this course and, in a broader sense, we've had an awesome time in all of the classes we've taught this year. It's been amazing to see how many women have benefitted from this course and improved in their RV knowledge and confidence. We look forward to training more RV technicians and, ultimately, continuing to improve the RV consumer experience."
A number of companies in the RV industry came together to make this class possible. The course was hosted by the Pennsylvania RV and Campground Association, with an RV provided by Camping World. Class sponsors include Tom Schaeffer's Camping and Travel Center, Stoltzfus RV, and Colonial Airstream.
A segment on the class was broadcasted on the local 21 News channel featuring the students and Go RVing's Senior Manager of Programs and Experiential Events, Dana DelVecchio. Check it out above!